Client: Harrods Pop-Up Store – Fashion Re-told
Design: Harrods design team
Collaboration:

PressOn
Print material: 
Floors – Self adhesive flooring with a textured R10 slip rating surface
Walls – A pastable polyester canvas with a grey back
Lift doors – self-adhesive monomeric blockout vinyl
Fabric frames – Polyester textile with a blockout backing
Acrylic blocks – Self-adhesive monomeric vinyl
Printers: HP R2000, HPLX3600
Digital print technology: Latex
Year: 2019
PressOn supplied the graphics for all walls, floors, lifts and stairs in the 218 square metre space with a brief to cover every surface with a coherent, seamless series of showstopping floral graphics.
Press On also worked with Harrods on this project in 2018, supporting the inaugural Fashion Re-Told in Sloane Street, which raised over £110,000 for the NSPCC. This year, the ambition was to reimagine the parameters of a charity store by replicating the luxury shopping experience customers receive when they visit Harrods. The store, which was donated by Howard de Walden Estates, is situated in the heart of Marylebone.
The pop-up, which is staffed by Harrods and NSPCC volunteers, offers a curated edit of new and preloved designer womenswear, menswear, children's wear and accessories donated by both British and International designers.
Every penny generated by Fashion Re-Told will go directly towards the NSPCC's vital services in the capital, helping to support children in London and protect them from abuse and neglect.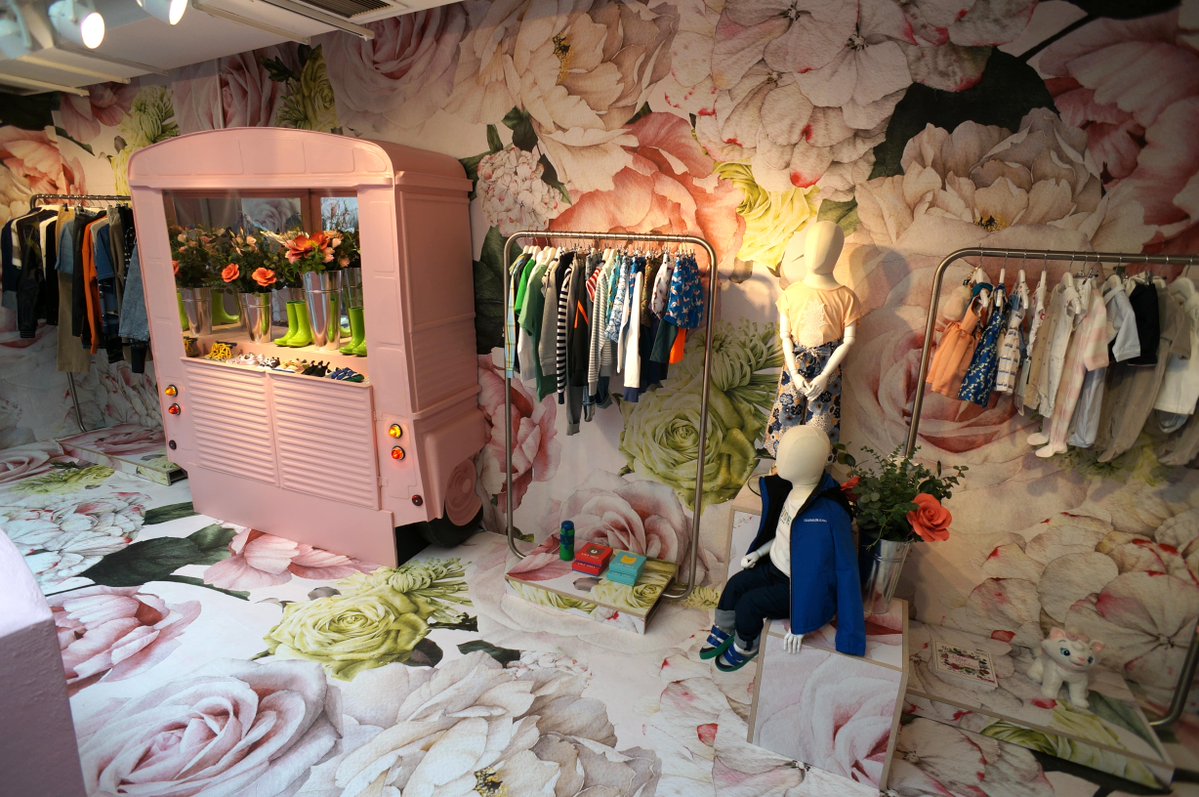 Using four different substrates on walls, floors, lift doors and tension fabrics frames systems to create one repeating bold, seamless visual effect was a technical challenge. PressOn utilised the excellent colour gamut of the new HP R2000 series and the HP LX3600 for the print and employed the GMG colour management system to ensure consistency of colour across all aspects of the design. Installation took place over four nights in April, ahead of the store's launch on 2nd May.
"Supporting Harrods and the NSPCC for Fashion Re-told 2019 was a great honour for us at PressOn and we're very proud of the finished result. Seeing the transformation of an empty shell to this stunning store using printed graphics has been amazing!" said Shannell Davies, Senior Project Manager at PressOn.
Alexander Wells Greco, Creative Visual Director at Harrods commented: "Harrods is synonymous with luxury retail and with Fashion Re-Told, our ambition is to change the public's perception of charitable shopping by offering a Harrods level shopping experience. PressOn have helped us to deliver a store which is truly unique, and which has captured the imagination of all the shoppers who have visited so far."